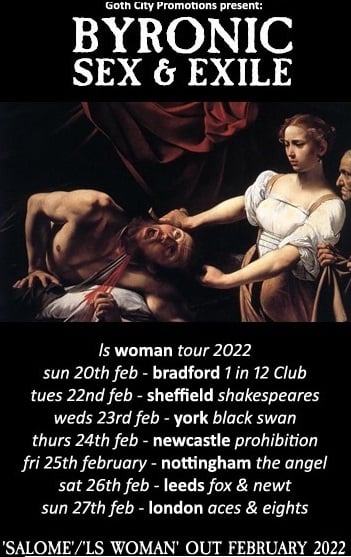 LS WOMAN TOUR - FEBRUARY 2022

The LS Woman Tour is a series of shows at new and familiar venues. to blow away the cobwebs of the year and lay the foundations for the next steps.
Also released in February will be the new single - 'Salome', b/w 'LS Woman' (originally the Doors). Support and ticket details to follow!

Sunday 20th - Bradford 1 in 12 Club (matinee show)
Tuesday 22nd - Sheffield Shakespeare's
Wednesday 23rd - York Black Swan
Thursday 24th - Newcastle Prohibition
Friday 25th - Nottingham The Angel
Saturday 26th - Leeds Fox & Newt
Sunday 27th - London Aces & Eights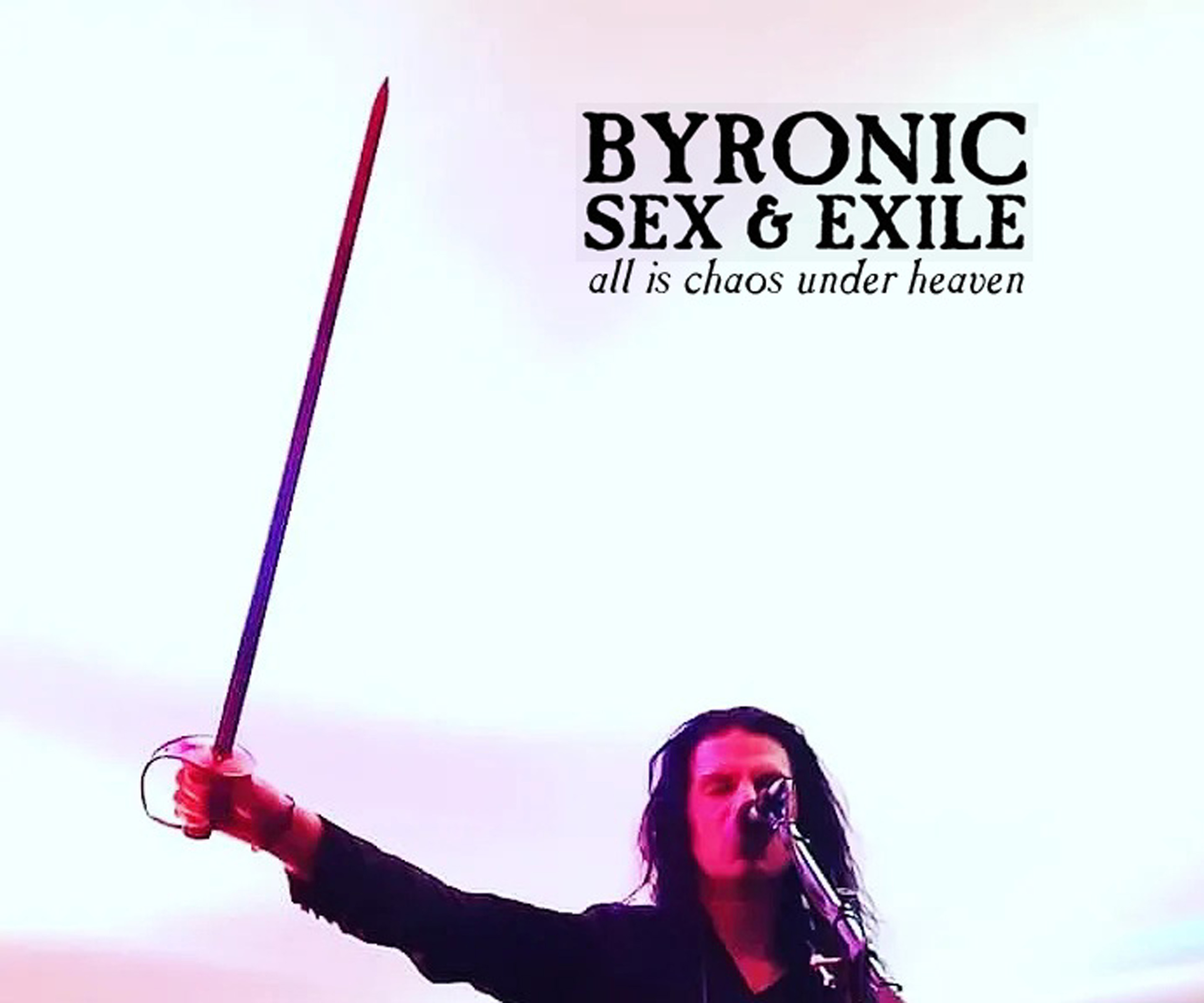 ALL IS CHAOS UNDER HEAVEN' (LIVE) - OUT NOW!

Delighted to announce the release of an 'official bootleg' live album by Byronic Sex & Exile, 'All Is Chaos Under Heaven', as a digital download via Bandcamp.
Recorded live at Islington Hope & Anchor on the 27th September 2021 on the 'Unrepentant Thunder' tour, and mixed & edit back in Leeds, the result is a great souvenir of the tour delivered with no overdubs and all the atmosphere and fun of a Byronic Sex & Exile show.

All songs by Byronic Sex & Exile, except 'Kingdom' (VNV Nation) and 'Missolonghi' (Byron).

Tracklist:
1. Destiny
2. Your Name On The Wind
3. Kingdom
4. Deicide Is Painless
5. Death Or Joy!
6. Crimes of Passion
7. Missolonghi/A Boy Called Jihad
8. Unrepentant Thunder
9. Hercules
10. Leviathan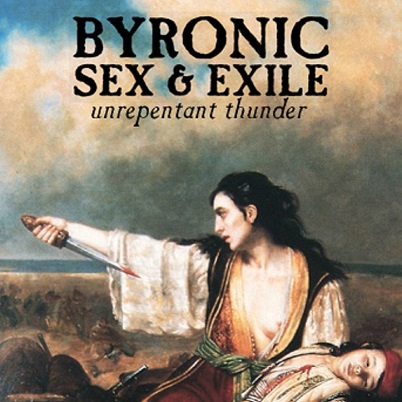 'UNREPENTANT THUNDER' - OUT NOW

Proud to announce that the third full-length Byronic Sex & Exile album will be released on Goth City Records on Friday 3rd September, available on CD and digital download.
'Unrepentant Thunder' features 16 tracks mixing blisteringly passionate guitar-based gothic rock, devastating ballads and sombre spoken word. The album, loosely based on Byron's participation in (and martyrdom for) the struggle for Greek independence, is an expressive feast which ebbs and flows like the revolution itself - by turns militant, poetic and sorrowful, it is a defence of the very idea of political agency in keeping with the best traditions of the romantic gothic movement.

Tracks are:
1. To Die For Greece
2. Destiny
3. Until Freedom Dies
4. Deicide Is Painless
5. Death Or Joy
6. I Speak
7. 114
8. Ecstasy (Lovers Make Better Goths)
9. Last Letter To Mao
10. Missolonghi
11. A Boy Called Jihad
12. Unrepentant Thunder
13. Sweet Prince
14. Hercules
15. Requiem
16. Castle In My Mind

'I Speak' is by Greek leftwing poet Manolis Anagnostakis, whereas 'Missolonghi' is an excerpt from 'The Isles of Greece' by Byron.